No Good Deed Goes Unpunished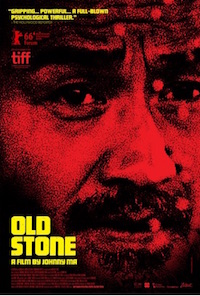 Johnny Ma's solid debut feature Old Stone is a naturalistic yet surreal tale of a Chinese taxi driver whose good deed results in a bureaucratic nightmare. When cabbie Lao Shi (Chen Gang) is distracted by a drunken passenger and hits a motorcyclist, he brings the victim to a hospital rather than wait for the police or ambulance to show up. Though he has probably saved the man's life, his flouting of procedure causes him no end of suffering at the hands of callous officials and others, including his own wife. As outrageous as Lao Shi's predicament may seem at times, it is not really so outlandish in a country where insurance policies exist specifically for rescuers of elderly people who have fallen, in case the Good Samaritan gets sued for causing the mishap.
The Shanghai-born, Toronto-raised Ma switched from a career in business to documentary filmmaking in 2008 (after receiving an MFA in film from Columbia University). His unique sensibility is reflected in Old Stone, which is has both both a raw, realistic quality and a moody, noir-ish ambience. Though the film (like its protagonist) eventually makes a sharp turn into a very dark place, it doesn't feel disjointed or tonally uneven, as events build to an almost inevitable ending.
Lao Shi's decency is apparent in the accident's aftermath, when he ignores the advice of rubbernecking bystanders and takes matters into his own hands. A cool, taciturn type, the cabbie is a classic misunderstood antihero, seemingly at odds with the world (Chen does a great job embodying this). Because he has brought the unconscious motorcyclist to the hospital, he is responsible for the man's medical bills; rather than withhold life-saving surgery, Lao Shi hands over his credit card. Fun fact: Chinese victim compensation laws often stipulate that drivers must pay an accident victim's lifetime medical bills, as opposed to a relatively small fee for killing the person. (Thus the appalling practice of drivers backing up over pedestrians they have hit to make sure they're dead.)
Unsympathetic police officers inform Lao Shi that it was against procedure to leave the scene before they arrived, as does the cab company, who declare that insurance probably won't cover the accident. Lao Shi tries handing out cigarettes and arguing his case, to no avail. (Cigarette bribes and smoking in general occur frequently throughout the story).
At first Lao Shi doesn't tell his wife, Mao Mao (Nai An, the film's executive producer), who runs a daycare center in their home, about any of this. The couple, who have a tween daughter, are clearly struggling financially. Meanwhile he visits his comatose victim in the hospital and contacts the man's wife about the mounting medical bills, but the distraught woman can't and won't pay. When Mao Mao finally finds out about the accident, she takes her husband to visit a well-to-do lawyer–the husband of a daycare client–for help. Realizing the futility of the case ("It would have been easier if the guy died at the scene"), the lawyer demurs and Mao Mao begs, humiliating Lao Shi. They fight and she leaves him, yet another blow.
The film's tension ratchets up as the desperate, formerly mild-mannered Lao Shi both hardens and falls apart, drinking constantly and transmogrifying into an angry, abusive driver. At one point while intoxicated, he wanders into a surreal outdoor dance workout accompanied by tinny synthesizer music, an echo of his daughter's earlier dance recital. The soundtrack in general becomes increasingly moody and discordant.
He finally tracks down the drunk passenger who caused the accident at a wedding reception. When the man refuses to provide a statement to the police absolving the cabbie of responsibility, Lao Shi tries to bribe him and the scene ends in an ugly spectacle, filmed by various guests on their phones. (Like the accident bystanders, they seem blank-faced and heartless.)
Things take an intriguing turn when Lao Shi discovers that the victim had a life insurance policy. He visits the hospital one last time and winds up causing an unanticipated outcome, setting him on a strange, new path. The scene's suspenseful aftermath explains several flash-forwards that Ma has sprinkled throughout the film and leads to its sensationally chilling finale. Both shocking and logical, film's conclusion once again brings home the Chinese adage, "It is better to hit to kill than to hit and injure." Both a commentary on the Chinese legal system and an offbeat thriller, Old Stone strikes a satisfying balance between the two.
Old Stone opens on Wednesday, November 30, at the IFC Center.
—Marina Zogbi