Now More Than Ever: Human Rights Watch Film Festival 2017
The 28th edition of the Human Rights Watch Film Festival takes place this year from Friday, June 9, through Sunday, June 18. With 21 feature documentaries and panel discussions that showcase the courage and resilience of activism in these challenging times, the event seems more relevant than ever. The festival is co-presented by the Film Society of Lincoln Center and IFC Center, and all screenings are followed by discussions with filmmakers, their subjects, Human Rights Watch researchers and special guests.
Several films address the worsening refugee crisis and migration, including opening night presentation Nowhere to Hide, directed by Zaradasht Ahmed. Using a camera given to him by the filmmaker, Iraqi nurse Nori Sharif documents the catastrophic events surrounding his family as war and ISIS devastate their region.
The need for change in U.S. law enforcement and the justice system is another festival theme, represented by films including Erik Ljung's The Blood Is at the Doorstep, about a fatal shooting by Milwaukee police, and Peter Nicks's The Force, about the long troubled Oakland Police Department. One of the films addressing the changing face of journalism and how we get our information, closing night's Nobody Speak: Trials of the Free Press, directed by Brian Knappenberger, explores the recent Hulk Hogan vs. Gawker case and others.
The Resistance Saga, a daylong special event, includes a trilogy of films by Pamela Yates on the plight of the Mayan people of Guatemala. When the Mountains Tremble (1984), Granito: How to Nail a Dictator (2001), and 500 Years: Life in Resistance (2017) all document the events surrounding first trial in the history of the Americas to prosecute the genocide of an indigenous people.
Other highlights of the HRWFF: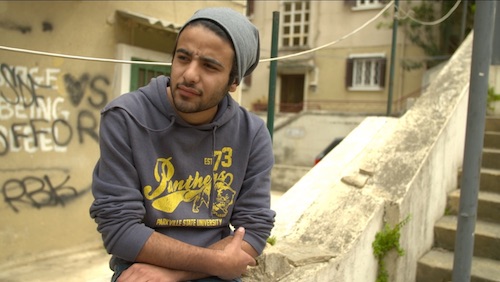 Sophia and Georgia Scott's sad, moving Lost in Lebanon closely follows four Syrians out of the 1.5 million who have fled their country's war for neighboring Lebanon. Sheikh Abdo, a solid community leader and family man; Nemr, a thoughtful student who never finished high school because of the war; Reem, a wry, English-speaking architect; and Mwafak, a cheerful, long-haired artist, each tell their stories as we watch them grapple with insurmountable challenges in attempting to re-start their lives. Unable to work, attend school, or even obtain exit visas in an overwhelmed country that has grown increasingly hostile to their presence, they volunteer teaching children at refugee camps, worried that future generations of war-displaced Syrians will be illiterate. Initially persevering and optimistic, the subjects' intense frustrations are palpable by the end of the film.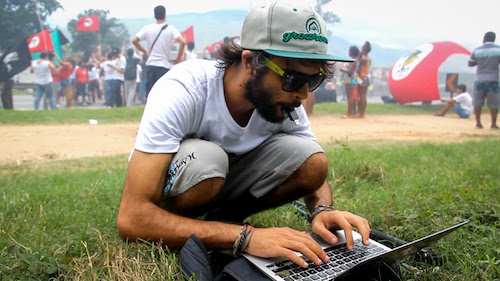 Nicholas de Pencier's Black Code follows the activities of the Toronto University-based research unit Citizen Lab. Led by Professor Ronald Deibert, these "internet sleuths" travel the world, uncovering digital espionage by corporations and governments, while partnering with local activists. Citizen Lab made its name by exposing Chinese malware used to spy on the Dalai Lama and other prominent Tibetans. These "acts of war against citizens," says Deibert, allow government agents to apprehend and sometimes kill opponents. Other locales visited in the film include Pakistan, where we meet the leader of internet rights group Bytes for All Pakistan and see how social media-fueled hatred results in the murder of one female activist. In Rio de Janeiro, we're introduced to Midia Ninja, the group that covered heavily policed protests of the 2014 World Cup via TwitCasting.  Ethiopian and Syrian activists also talk about their experiences with government spyware. The film raises disturbing questions about the possible consequences of what we unthinkingly post on Facebook and other channels.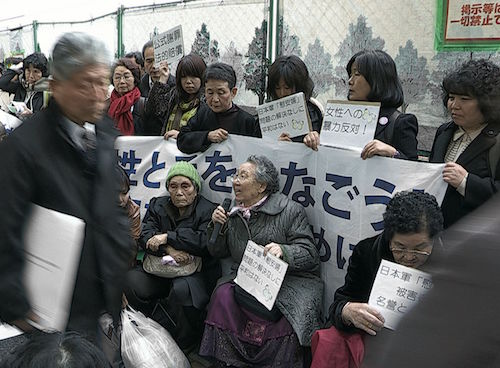 Tiffany Hsiung's The Apology explores a shameful episode in Japanese history through three women who were sexual slaves of the Japanese Imperial Army during World War II. Grandma Gil in South Korea, Grandma Cao in China and Grandma Adela in the Philippines (all in their 80s and 90s) are among the few still-living "comfort women"–thousands who were forced to service occupying Japanese soldiers. They each tell their stories as the film follows current efforts to extract an official apology and recognition from the Japanese government. We watch the indefatigable Gil prepare for the 1000th weekly demonstration she helped organize in 1992 outside Seoul's Japanese Embassy; she speaks to groups in various countries, including a roomful of Japanese girls who are stunned to hear her story. We also visit Cao in her rural village, as she tells her horrifying account after decades of secrecy, even from her daughter; and watch Adela, who has never told her family about her experience out of shame, as she finally unburdens herself. The film is a tribute to these women and the many who died before their stories could be heard.
Click here for complete program and schedule information.
–Marina Zogbi