Wearable Art: This is why you need to know about Ann Lowe
On September 24, the National African American Museum opened its doors to public. And while the museum's timed passes are sold out for the rest of the year,  it's still a great time to learn about what's currently on exhibit.
And if you are wondering if there's a showcase at the museum that relates to the world of fashion, you're in luck. The museum will be showcasing a selection of Ann Lowe's dresses, and they are a must-see!
Ann Lowe — a highly sought after designer in her day —  is the first world-renowned black designer who created dresses for socialites and brides. She created looks for families including the Auchinclosses, DuPonts, Kennedys, Posts, Rockefellers, and Roosevelts. She is also the first black designer to own a boutique on Madison Avenue. And her stunning creations were also sold at Henri Bendel, Saks Fifth Avenue, and Neiman Marcus.
Pink satin and organza ball gown, designed by Ann Lowe, 1959, once owned by Patricia Penrose Schieffer, wife of CBS News' Bob Schieffer. Gift of the Black Fashion Museum founded by Lois K. Alexander-Lane. Photo courtesy of NMAAHC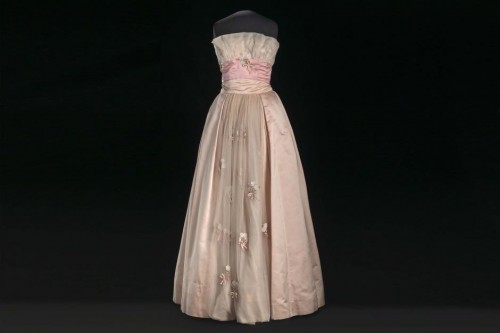 Famously, Lowe designed Jacqueline Kennedy's wedding gown in 1953. Lowe crafted a dress made up of fifty yards of ivory silk taffeta for the Bouvier-Kennedy nuptials, and cost approximately $700  — roughly $13,000 factoring today's inflation, according to Racked's Danielle Kwateng-Clark .
And as Kwateng-Clark deftly sums up, Lowe "did the impossible in the Jim Crow-era by making a name for herself solely from her talent."
Designer Ann Lowe and the famous Kennedy wedding gown. Photo courtesy of Alchetron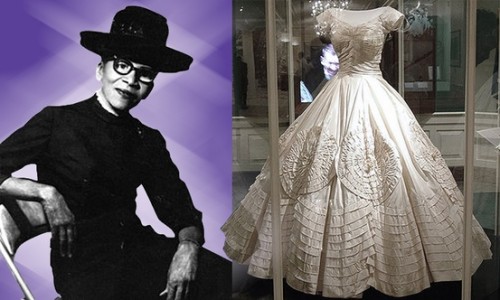 Sadly, Lowe was never openly credited for designing Mrs. Kennedy's gown. As Alchetron points out, the gown was "described in detail in New York Times' coverage of the wedding." However, the dressmaker was never mentioned.
#Fashion #JackyKennedy #WeedingDress c.1953 #Designer #AnnLowe pic.twitter.com/WAnv3T5INm

— Alberto T Peroni (@titoperoni) February 27, 2015
And even publications like Vogue Magazine featured Lowe's work, but did not credit her for her work.
The great-granddaughter of an enslaved woman and a plantation owner, Lowe was born in Alabama in 1898. By 16, Lowe made four gowns for her state's First Lady, Lizzie Kirkland O'Neal, after her mother, a seamstress, died suddenly.  Some time later, Lowe was in high demand, making over 1,000 dresses and year, and grossing over $300,000 a year.
#AnnLowe designed #JacquelineKennedy's wedding dress #BlackWomenDidThat pic.twitter.com/qlGV8lldAW

— Marie Roker-Jones (@RaisingGreatMen) July 29, 2016
And then Lowe experience financial setbacks that eventually shuttered her once thriving business: "One morning I woke up owing $10,000 to suppliers and $12,800 in back taxes," Lowe said in an interview with Ebony Magazine, after having to eventually declare bankruptcy.
As Kwateng-Clark reports, Lowe's IRS bill was mysteriously paid for by an unknown benefactor. "It's believed that Jackie Kennedy found out about Ann's troubles around the time the bill was settled," she writes.
Jacqueline Colette Prosper, yummicoco.com