The Life and Death of a Musical Prodigy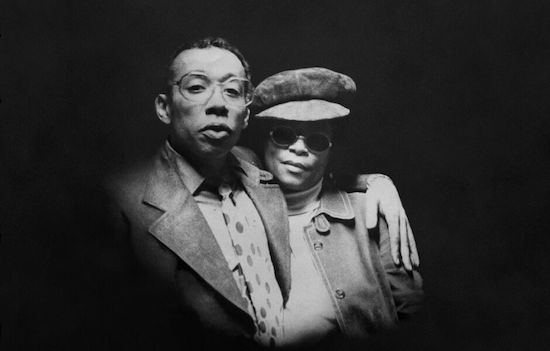 The second film from Swedish director Kasper Collin, I Called Him Morgan is an evocative, beautifully filmed documentary of a remarkable life cut short and a remarkably fertile period in New York City's jazz scene. In February 1972, acclaimed 33-year-old trumpeter Lee Morgan was shot to death by his common-law wife Helen in an East Village club. The murder shocked all who knew the couple, including Morgan's fans and fellow musicians, many of whom tried to make sense of the tragedy afterwards.
Using interviews; gorgeous, iconic, black and white still photos; archival film clips, and moody reenactments—all underscored by a fabulous soundtrack—Collin constructs compelling portraits of both Lee Morgan and his common-law wife Helen, making their way in New York City's hopping jazz scene from the late 1950s through the early '70s. The story slowly builds up to that fateful night, providing details that many have apparently pondered for years. In doing so, Collin gives us a glimpse of the great talent possessed by Morgan, along with poignant memories of the people who nurtured and appreciated it. With its potent music, atmospheric footage of vintage NYC and artfully abstract recreations, the film also gives us a palpable sense of time and place.
Collin's main resource is an interview that Helen gave to radio host and jazz scholar Larry Reni Thomas in 1996, a month before she passed away. This fortuitous conversation came about when Thomas was teaching adult education at a Wilmington, N.C., high school and she happened to be one of his students. The tape, shown being played on an old cassette player, has a scratchy, otherworldly sound, rendering Helen's raw testimony all the more haunting.
We hear her story alternated with Lee's, the latter mainly provided by musicians like one-time bandmate (Art Blakey's Jazz Messengers) and friend Wayne Shorter, who remembers first seeing teenage Lee playing with Dizzy Gillespie in the late 1950s. Very young and very talented, the Philadelphia-born Morgan is recalled as dapper and confident. We also hear excerpts from an interview that Lee himself gave in the early 1970s, in which he sounds as sharp and cool as his music.
Insightful interviews are provided by various bandmates and other luminaries in the scene, including Jymie Merritt, Bennie Maupin, Albert "Tootie" Heath, and Billy Harper, who chart the rise of Morgan's career in New York, followed by his descent into heroin abuse and subsequent career collapse. Helen is recalled as a fixture in their circle, a strong presence (and great cook) who would provide meals to musicians in her 53rd Street apartment. Originally from rural North Carolina, she had escaped the privations of the farm, first moving to Wilmington where she had children while still in her teens, then to New York City when her first husband died. Her son, Al Harrison—only 13 years her junior—tells of first meeting his mother when he was 21, among other recollections.
It was Helen who took the fallen Morgan under her maternal wing, sending him to rehab, acting as manager and getting him club dates, and generally taking care of everything. As one acquaintance notes, "She had almost adopted a child." (The film's title refers to the fact that Helen didn't like or use her husband's first name.)
We also meet Lee's friend Judith Johnson, with whom he quickly developed a strong bond. As Lee spent more time with her, sometimes neglecting to come home at night, Helen became resentful of being relegated to Lee's "main woman," a role she had no intention of fulfilling, as she tells Thomas frankly. Neither woman was supposed to be at Slug's Club where Lee was performing on that snowstorm-plagued night in February, a fact that makes the resulting tragedy seem all the more random and senseless.
I Called Him Morgan is clearly a labor of love for Collin, whose 2006 documentary My Name Is Albert Ayler was similarly enlightening and evocative. Those who already revere Morgan will undoubtedly find the film fascinating; those who might not be familiar with the artist will probably be inspired to seek out his music.
I Called Him Morgan opens on Friday, March 24, at the Film Society of Lincoln Center.
—Marina Zogbi