Trinidad's Dark Side and a Real Life RomCom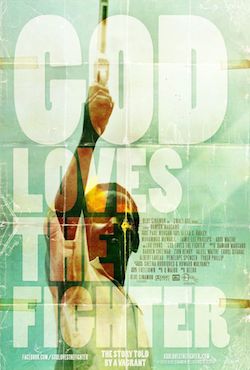 Damian Marcano's debut feature, God Loves the Fighter, is a raw, highly stylized film about life in the rough Laventille neighborhood of Trinidad and Tobago's capital, Port of Spain. Replete with a cast of colorful characters (played by an all-Trinidadian cast), eye-popping visuals, and a strong soundtrack of music by Q Major and Freetown Collective, God Loves the Fighter is a loose, impressionistic film that makes up in grit and atmosphere what it lacks in cohesion. It's also a rare depiction of the struggling inhabitants of a city that has one of the highest crime rates in the Caribbean.
The film is largely narrated by King Curtis (Lou Lyons, half of reggae/spoken word duo Freetown Collective), a charismatic street poet and vagrant who describes Port of Spain's poor east side as "a dirty, nasty concrete jungle of fallen leaves." Curtis introduces us to a variety of characters, filling us in on their often-bleak back stories. These include main protagonist Charlie (Muhammad Muwakil, Freetown Collective's other half), who is trying to find legitimate work; Dinah (Jamie Lee Phillips), a young prostitute who finds solace in a local church; Moses (Simon Junior John), a middle-aged taxi driver who runs drugs in order to make ends meet; and Putao Singh (Darren Cheewah), a sinister thug who spouts bad ethnic jokes as he commandeers a combination bar/brothel/cocaine ring that controls just about everyone in the film. These characters (there's also a young boy and his grieving, abusive mother; Charlie's childhood friend-turned-gangster; and an older father figure) are initially hard to keep track of, but their lives ultimately intersect to some degree. Dialogue is naturalistic and seemingly improvised at times, some of it in patois (there are subtitles throughout).
The film has several running motifs, including recurring radio news reports of the city's latest murders and frequent dialogue about obtaining food (many of the characters are chronically hungry). Several scenes feature a priest in the church where Dinah takes refuge, preaching welcome and forgiveness to all sinners. The movie takes its time building to the point where a desperate Dinah enlists Charlie help her escape Singh's harem, giving him an opportunity to break away from his own dangerous job accompanying Moses on drug runs. A drawn-out climax involves the deaths of several characters, followed by the inevitable and impersonal news headlines about the city's latest murders. Though disjointed and chaotic at times, God Loves the Fighter still manages to pack a significant punch.
God Loves the Fighter is available on iTunes and Amazon, and on DVD at godlovesthefighter.com.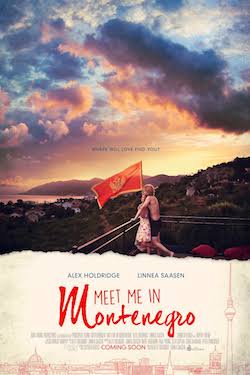 Also out this week is Meet Me in Montenegro, starring, directed and written by Alex Holdridge and Linnea Saasen. The film, which is based on the duo's actual experiences, is a talky, low-key romantic comedy that is sometimes reminiscent of Richard Linklater's Before Sunrise trilogy, but is very much its own thing; charming in spite of its excesses and romcom conventions.
When frustrated, broke LA filmmaker Anderson (Holdridge) goes to Berlin for a meeting he hopes will bring his latest project to fruition, he runs into Lina (Saasen), a dancer he met the last time he was in town. Back then they had a short intense affair involving a spontaneous trip to the Balkans (ending up in Montenegro), before she abruptly fled without explanation. Though Anderson is reluctant to get involved – and possibly hurt — again (he's a sensitive type who cries watching The Bachelor) they're inevitably drawn to each other. Their time is limited, as she's leaving in a couple of days for a residency in Budapest.
There are several twists and turns on both the romantic and professional fronts, causing Anderson to experience rollercoaster emotions as he tries to keep his film alive and be true to himself — and to Lina; he finally learns why she bailed on their previous relationship. Interwoven throughout their story are scenes of another romantic involvement, that of Anderson's friend Stephen (Rupert Friend) and the latter's longtime girlfriend Friederike (Jennifer Ulrich). The couple, with whom Anderson is staying in Berlin, initially seem nonchalant about exploring their sexual horizons, but their relationship is clearly having its own issues, culminating in uneasy scenes set at a sex club.
Though the film's dialogue is sometimes clunky and mundane, it often rings true, especially in a scene where Anderson, enraged after a setback in the making of his film, lashes out at Lina who is trying to comfort him with platitudes. And though the ending is somewhat predictable, it's saved by self-aware dialogue and the amusing fact that the couple's story is the subject of both Anderson's next film and the film we're watching. It's all very meta.
Meet Me in Montenegro is in theaters, on iTunes and on demand this Friday, July 10.
—Marina Zogbi