Alan Lupiani: Blurring the Conceptual Lines of Painting
Alan Lupiani has been a involved in the New York art scene since 1996.  In this time, he has built an impressive resume of exhibitions that he has participated in and curated himself. Lupiani, a graduate of Binghamton University, earning a BA Studio Art 1988, would go onto receive his MBA in Arts Administration from the same institution in 1991. While Lupiani is a trained painter, his most recent work questions the conceptual bonds between painting and performance based work.
In 2007, he launched his own LIVE Internet show entitled, "Dear Immaculately Groomed Italian Guy." The show was successful in that it attracted as many as 10,000 viewers per episode. Lupiani produced approximately fifteen live episodes. Each episode utilized a similar format: cooking dinner for a guest in his apartment, while taking Skype calls from a global audience base. He also presented previously recorded clips with his guest at various locations around New York City. Lupiani recruited the individuals he hosted through the "Gigs" section of Craig's List. These meetings via Craig's List created the vibe of chance intimacy which resulted in provocative, comedic interactions.
Currently Lupiani "utilizes painting as a metaphor to deconstruct various "situations" which he discovers through the internet, pop culture, and his personal biography. This approach to painting involves picking words and images that Lupiani responds to on a daily basis. He then manipulates the images in Photoshop, prints them out, and reworks them by hand in the studio.
Lupiani maintains a studio practice while also being involved in the art world on multiple levels. In 2013, he was named Administrative Co-Director of the New York Studio Residency Program. He Co-Directs the NYSRP with artist/activist Artistic Co-Director, William Powhida. More recently, Lupiani has also curated various group shows, and launched his own art consulting business. I spoke with Lupiani regarding the contemporary art scene in New York City, his own studio practice, and what it takes to be a successful artist in today's world.

Anni Irish: How did you start working at NYSRP? What role you played as a studio manager?
Alan Lupiani: Retired Director John Tomlinson hired me in 1997. I supported John and the Program in this capacity until my promotion to Administrative Co-Director in June 2013.
AI: How that has your role changed in the program in the last year?
AL: I am now the Administrative Co-Director of the NYSRP, responsible for day to day operations. Additional responsibilities now include formulating the marketing, community/alumni and strategic development.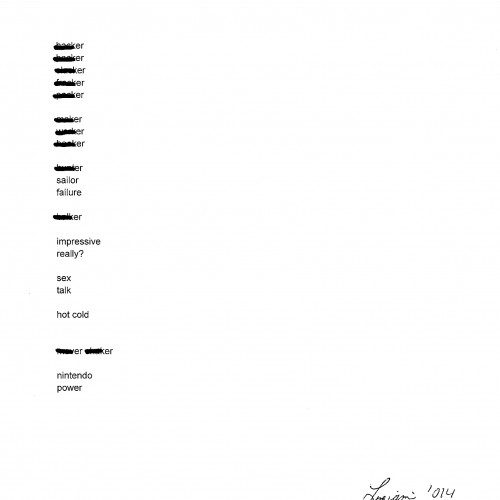 Image courtesy of Alan Lupiani, 2014.
AI: What are some of your favorite aspects of being able to work with emerging artists on a daily basis?
AL: There is always a fresh vibe at the NYSRP which keeps the environment lively and engaging. Meeting different people who come through the program such as visiting artists, critics, and a constant flow of exceptional residents keeps the critical inquiry alive and well.
AI: How did your undergraduate experience at Binghamton University formulate your art making practice?
AL: I received a traditional NYC middle century modernist based painting education, which focused on the technical aspects of making a painting. I worked primarily with Brooklyn born painter Angelo Ippolito a second-generation abstract expressionist artist. He treated me like a son and supported my aspirations to become a painter.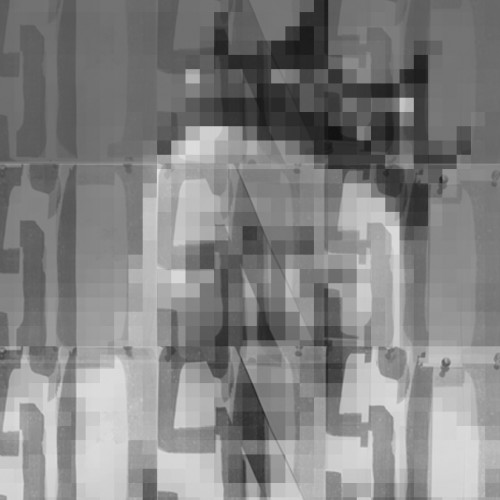 Image courtesy of Alan Lupiani, Biggie, 2014.
AI: Your earlier experiences with Angelo Ippolito sound very important. What influences if any do you see of him occurring in your work?
AL: Angelo taught me to believe in myself and pushed me to take my art practice further.
AI: In your artist statement you discuss the conceptual break you made earlier on in your career being trained as a traditional painter to now using painting as a metaphor to "deconstruct situations on the internet, in popular culture." I am really interested in that idea as both an intervention in the art world and the performance based potentials that it appears to have. Could you talk more about that?
AL: This goes back to my break out of the studio in 2006. I worked with actor and comedian Tom Green to help promote his internet talk show "Tom Green Live." Tom mentored me in aspects of confrontational performance and how to take risks.
AI: How did the opportunity to work with Tom Green come about?
AL: The opportunity came about via Youtube, I had posted some goofy experimental performances based on a character called Aluminaman who would rock out to some AC/DC songs. One of Tom's fans saw these videos and recommended that I contact Tom to participated on his LIVE streamed internet show.
AI: Your current work seems performative in terms of how you select images, then manipulate them both in Photoshop and in the studio. Could you describe that process a bit more and how the performance element has become more prevalent in your work over the last six years?
AL: I wouldn't call it performance based per say. It is starting to head that way as I look to expand my studio into more formal white cube situations/events. Time and opportunity will tell.
 Image courtesy of Alan Lupiani, Tim Burners, 2014.
AI: What are your thoughts regarding the current state of painting and it's place within contemporary art?
AL: Essentially I view object making, not just painting, as an artist's calling card. I prefer to focus on the artist as an, art being. The rest, object wise, is either made for the market or as an extension of the artist's reach into society.
AI: You've been involved in the NYC art scene since 1996. In that time, what are some of the most significant changes you have seen in this time?
AL: The New York art world has become more professionalized and siloed into separate definable fiefdoms/class structures. For example, one structure are those artists who engage with blue chip galleries, earn a substantial living, exhibit in global biennials and museum shows. Another tier to this structure are gallery represented artists who make some money from their art and the rest from teaching or other job. Another grouping includes unrepresented artists who show from time to time and have another career to support themselves. Also, the development of communities through social media like Facebook and Instagram has helped to make the New York art community more interactive and engaging. However, making a living as a serious artist while not being beholden to the market seems as difficult as ever. In addition to the difficulties of just surviving in New York City, younger people have to be that much more committed and resourceful to make a go of it here. In this way, living/working as an artist in New York City seems more Darwinian than ever.
 Image courtesy of Alan Lupiani, 2014.
AI: As an artist and now Administrative Co-director of NYSRP, what do you think is the importance of a fine arts based education in today's world?
AL: Well, there are a lot of smart people in the world, but to make the jump to a deep thinking sophisticated thinker, it takes a lot of work and investigation. Art school provides a supportive platform for young people to develop their minds and ideas in this manner. Depending on the commitment of the student, art school can also be a great way of learning how to work/think independently, and to develop creative strategies/initiatives which may help shape society for future generations.
AI.: What is some of the best advice you ever received?
AL: "People don't remember you for your successes, they remember you for how you treated them." I agree with that statement.
AI: What are some authors and artists you are currently reading?
AL: From Boardrooms to Battlefields and Churches to States, Why Being In Charge Isn't What It Used to Be by Moises Naim, Wild Bill Donovan by Douglas Waller and Hell's Angels: A Strange and Terrible Saga by Hunter S. Thompson
AI: What are some projects you are you currently working on?
AL: I am scheduled to curate group show in Montreal next February which revisits the exhibition "BLAM," previously presented at the Whitney Museum of American Art in 1986. I am working with emerging NYC and Canadian based artists for this exhibition. This group show, entitled, ÏmPop2 focuses on the pop/fluxus/minimalist pivot in NYC from 1958 – 1964 and how these issues/topics/concerns are still relevant today.
To learn more about Alan Lupiani's work check out his website and be sure to follow him on Instagram.
–Anni Irish