DOC NYC 2017: A Cornucopia of Documentaries
It's a great time of year for New York's documentary lovers, as the nation's largest nonfiction film festival comes to town. The eighth edition of DOC NYC runs November 9 –16 with screenings and panels taking place at the IFC Center, SVA Theater and Cinepolis Chelsea. Among the fest's 250 films and events are 11 feature-length works, from already released films such as Agnès Varda's acclaimed Faces, Places to films making their world premieres, including Sam Pollard's Maynard, a portrait of Atlanta's first black mayor, and Julia Bacha's Naila and The Uprising, about a Palestinian woman in Gaza who must make an impossible choice between love, family and freedom.
Among the festival's 18 categories are two competition sections: Viewfinders, for distinct directorial visions, and Metropolis, dedicated to stories set in NYC. More than 350 filmmakers and special guests (often film subjects) will be in attendance for Q&As after most screenings and for DOC NYC PRO panels, including Steve Madden (for Maddman), Dan Rather (for Fail State) and Susan Sarandon (for Soufra).
Opening the festival is Greg Barker's The Final Year, which follows key members of outgoing President Barack Obama's administration; closing it is Lili Fini Zanuck's Eric Clapton: Life in 12 Bars, about the life and career of the legendary guitarist. In between are docs of all sizes and shapes including centerpiece film Far from the Tree, Rachel Dretzin's world premiere adaptation of Andrew Solomon's book, and Errol Morris's Wormwood, about the 1953 death of a CIA agent. (The director is receiving DOC NYC's Visionaries Lifetime Achievement Award.)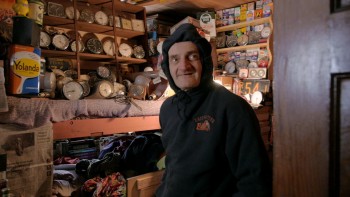 Mole Man (Viewfinders) is Guy Fiorita's film about Ron Heist, a 66-year-old autistic man who has built 25 interconnected structures in his rural Pennsylvania backyard. Clearly an architectural genius of sorts (he has never used nails, mortar or even measuring tools), Heist lives to build things and his creations have drawn visitors from all over western Pennsylvania, giving him something of a social life. He is also completely dependent on his 90-year-old mother, on whose property he has created his labyrinthine realm. At the heart of Mole Man is the disagreement between Ron's siblings and his friends. His brother and sister, understandably concerned about the future, believe that Ron should vacate the property and perhaps live in a group home. Meanwhile a group of friends look for a miraculous solution that would enable Ron to stay on the property and continue living in the only reality he has ever known. (World Premiere)
Screening Friday, Nov. 10, 7:30 pm at Cinepolis Chelsea, 260 W 23rd St.; and Monday, Nov. 13, 12:15 pm at IFC Center, 323 6th Ave.
In person: Guy Fiorita, film subjects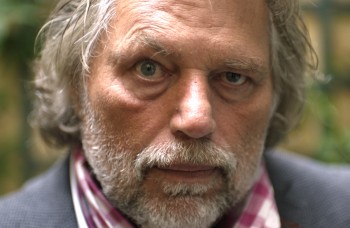 The Iconoclast (True Crime) is King Adz's portrait of world-renowned art connoisseur and thief Michel Van Rijn. The charismatic Dutchman, possibly a descendant of Rembrandt, has had an action-packed life, including seven marriages and involvement in many art smuggling and forging operations, as well as art recovery work with the FBI, MI6 and other law enforcement agencies. The son of a Jewish resistance fighter, Van Rijn also worked with Israel's Mossad and makes a shocking, not-altogether-outlandish admission about his role in the apprehension of infamous Nazi Josef Mengele. Of course, how much of what he says is true in his many interviews and interactions with Adz, is part of the film's mystery. (World Premiere)
Screening Thursday, Nov. 16, 7:15 pm at Cinepolis Chelsea.
In person: King Adz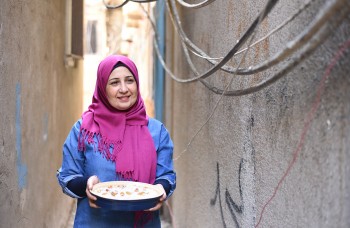 Soufra (International Perspectives) follows a group of women in Lebanon's Bourj el-Barajneh refugee camp as they attempt to improve their families' lives by forming a catering company. Sensitively directed by Thomas Morgan, the film gives us rare access into the day-to-day lives of people—mostly Palestinian and Syrian—who are stuck in a world they are unable to escape, barred from working or living outside. Led by the indefatigable Mariam Shaar, who has spent her entire life at Bourj el-Barajneh, the group engage one of the few activities accessible to them —cooking and baking, which gives them a communal activity as well as a means to improve their lot. With the help of a sympathetic lawyer, Shaar struggles to navigate the Lebanese legal system and obtain the necessary permits to operate a food truck. (North American Premiere)
Screening Sunday, Nov. 12, 1:45 pm at SVA Theatre, 333 W. 23rd St.
In person: Thomas Morgan and executive producer Susan Sarandon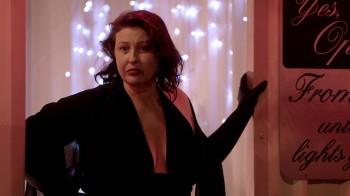 The Pink House (International Perspectives) is Sascha Ettinger Epstein's doc about the oldest working brothel in the former gold-mining town of Kalgoorlie, in Western Australia. In operation since 1904, when Hay Street was awash with similar businesses, Questa Casa is run by genteel octogenarian Carmel Galvin, who tends the garden when she's not taking calls from potential customers or giving tours of the facility to tourists. She also mothers her one remaining worker, the ageing, troubled BJ, who has been at the Pink House for decades. The film focuses on the unusual relationship between the two women, as well as the history of the former "wild west" town and Hay Street, now overrun with newfangled "Asian houses" that threaten to put Carmel and Questa Casa out of business. (International Premiere)
Screening Wednesday, Nov. 15, 7:30 pm and Thursday, Nov. 16, 3 pm, at the IFC Center
In person: Sascha Ettinger Epstein
Click here for more information and a full schedule of DOC NYC screenings and other events.
—Marina Zogbi