Artist Interview: Moxie & Mojo, Designer Tina Nichole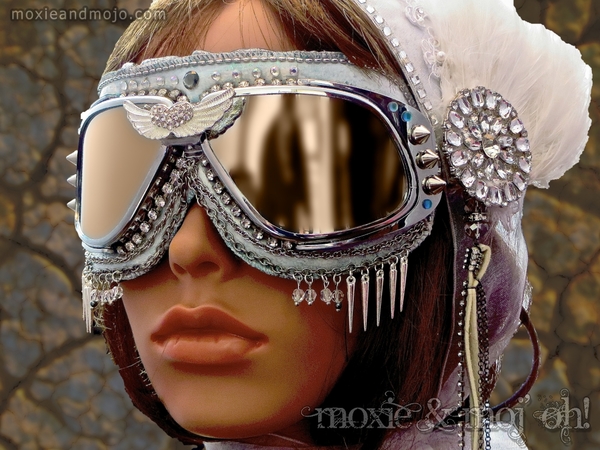 As the Black Rock Desert becomes the palate for artists across the world this coming weekend, most are focused on the massive art installations featured at Burning Man. We'd like to take this opportunity to focus on some of the other creatives who have been inspired by the annual gathering.
We recently interviewed designer Tina Nichole of Moxie & Mojo, a design house creating exciting, custom eye-wear and other fashionable accessories.
Tell us a few things that people should know about you.
I am also a Life & Leadership Coach and it is the most rewarding career I could have ever imagined.  I see possibility and potential in everyone and everything and am deeply passionate about working with people on their big "impossible" dreams and turning them into a reality.  I don't believe in impossible.
My creations are part of me and I can't force them – if I'm not passionate about it,  it won't vibe so I create based on what's inspiring me in the moment and if I'm stuck, I leave the piece until it calls me back to finish it.   I put a tremendous amount of energy into every piece I make.  Moxie & Mojo has been wildly successful since we opened our store just over a year ago and we've made a name for ourselves because we create quality products that are incredibly unique.
What has been your inspiration for your line Moxie & Mojo?
Moxie & Mojo was inspired by my own search for embellished goggles to wear at a ceremony on The Playa at the 2014 Burn.  I couldn't find anything outside of a few steampunk styles and I wanted something in white and more girly.  My girlfriend, Mia, encouraged me to let my inner artist out and give it a go at creating something for myself.  I found very quickly that my inner artist had a VERY loud voice and once that door was opened, there was no stopping me.  Since then I've gotten my inspiration from various sources ~ from love, nature, music, memories of experiences and friends.  I see so potential now in things that others might toss out as rubbish.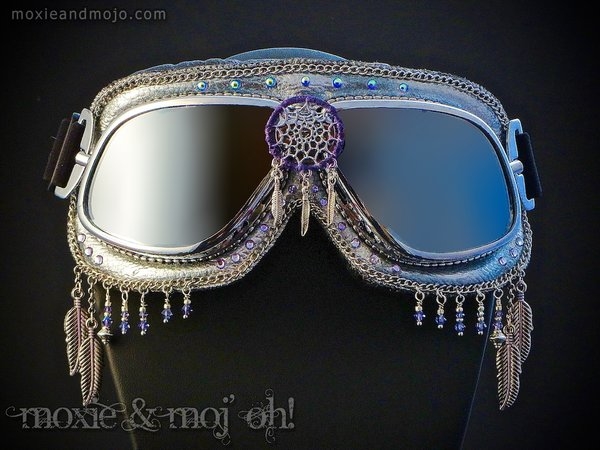 What type of materials do you use to produce your product?
Paints, pigment powders, scraps of material, parts of old jewelry, unique vintage pieces I come across, metal, beads, ribbon, you name it!
What's next for Moxie & Mojo?
Our 2017 line will include new ways of integrating lights into our current product line along with some new clothing items… I've had capes on the brain since I was Elvis for Halloween about a decade ago and at some point in the near future I'd like create capes with a Moxie & Mojo flavor.  There are thousands  of ideas floating around in my mind at any given time so it's a matter of picking which ones feel right and will push me to grow creatively.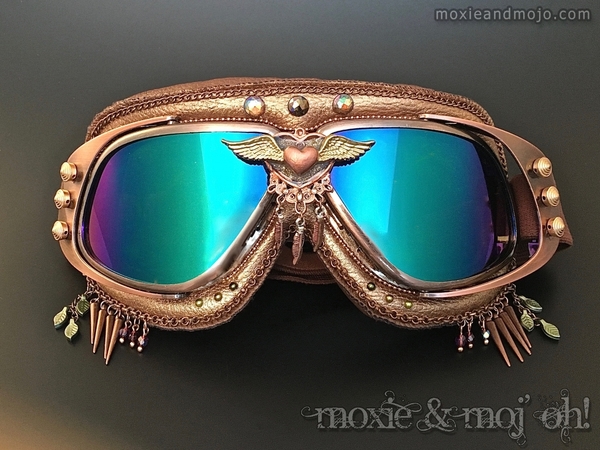 Where's the best place to purchase?
You can go to our website for a full list of items that we have ready for purchase through out Etsy shop "MoxieandMojoFashion" or you can go directly our Etsy store to purchase.  I also do quite a bit of custom work for goggles, hats and respirators for festival season.  I highly encourage people to shop early as each of the pieces I create is one of a kind and only 1 of each is sold.  I like my pieces to be unique to each person.
Why is Burning Man important to you?
It's a very magical place for so many reasons… even if it's just one week out of the year where people can let go of their "default world" tendencies and become a little more conscious of being present to the moment,  feeling free, unleashing their creativity and the "radical self reliance" of taking responsibility for yourself in place where there is no running water or grocery stores. You have to get creative to do some of the most basic things out there.  You have to rely on yourself or kindness of strangers… money won't get you too far but a smile or kind word will… it's a step in the right direction.  For those who've never attended,  do yourself a favor and go at least once and you will experience nothing like it on earth.  I love that people from all walks of life and come from every corner of the world to create temporary and profound works of art and feel like a kid again.  It is "awesome" as defined by the dictionary for certain.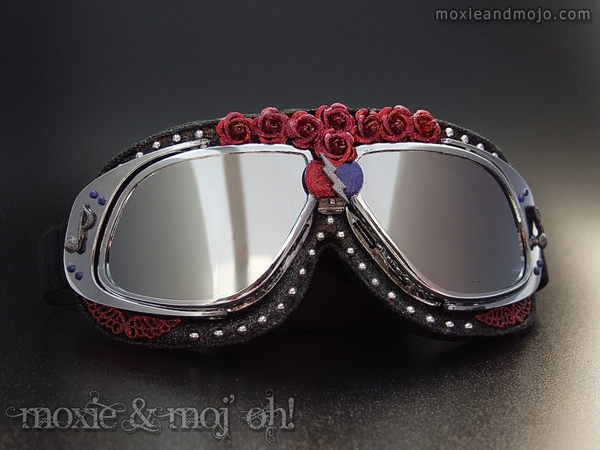 What's your favorite thing about San Francisco?
Do I have to pick just one? Lol.  The people, the food, the beauty, the proximity to mountain biking, wine country, and snowboarding are all contributing factors for sure.  If I had to pick my favorite thing, it would be the acceptance of diversity and creative expression.  Well, that's two things I suppose… so wrapping into it would be the higher than average level of "open-mindedness" that really makes San Francisco so great in my eyes.  I can wear a tutu to the grocery store on a Tuesday and it's not considered "bizarre".  I love that.