A Celebration of the Unusual and Seldom Seen
Founded in 1962, Film Comment has long been the critical voice of art-house and independent cinema, while also offering thoughtful coverage of more mainstream movies. The Film Society of Lincoln Center, which has published the magazine since the 1970s, annually presents the Film Comment Selects festival, which runs this year from Friday, Feb. 17, through Thursday, Feb. 23. Now in its 17th year, the festival screens movies that are not generally shown elsewhere, mixing the new and noteworthy with older, sometimes forgotten films that deserve another look.
The scope of the festival is demonstrated by its opening night films: a premiere of Stéphane Brizé's A Woman's Life, an intricate adaptation of the Guy de Maupassant novel; and an Ultra-widescreen IMAX presentation of Terrence Malick's trippy Voyage of Time, a visual and aural treat. The festival also features a four-film tribute to recently deceased cinematographer Raoul Coutard and revivals including 1972's The Effect of Gamma Rays on Man-in-the-Moon Marigolds and rarely seen 1962 short On the Harmfulness of Tobacco, both directed by Paul Newman.
Here's a look at a couple of other films to be screened:
Bitter Money, Wang Bing's rambling, fly-on-the-wall documentary about Chinese migrant workers, is sometimes a tough slog. His loose, observational style doesn't always serve the stories of his subjects—various individuals who have traveled to Huzhou to work in the city's garment factories—nor does it consistently engage the viewer. Nevertheless, with its scenes of both numbing tedium and startling violence, Bitter Money paints a grim picture of Chinese capitalism that eventually gets under the skin. (Those who are familiar with Wang's nine-hour West of the Tracks, might be relieved by the new film's two-and-a-half hour runtime.)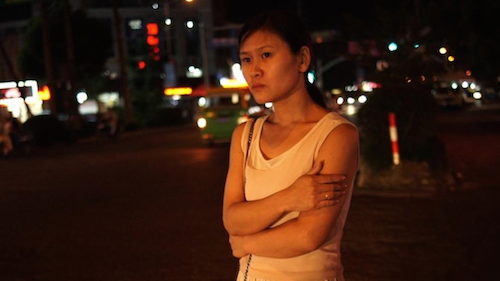 The film starts out with 15-year-old Xiou Min and her cousin planning then taking the long, grueling train trip to Huzhou, but soon leaves them to follow Xiou's laundry co-worker Ling Ling, who is embroiled in an abusive relationship with her awful husband, Erzi. In the film's roughest scene, we watch him brutalize her while most of his friends stand around; one wonders if this wildly dysfunctional couple are playing it up at all for the camera. Other subjects include an older alcoholic worker and a guy resigned to the fact that he's too slow to last at most factories. Much of the "action" takes place at the workers' bleak dormitory-style housing and in the cramped workrooms where they toil and bide their time, hoping for a job in one of the city's bigger factories. Overall, it's a depressing look at the places we fear our inexpensive clothes might come from. Screens Thursday, Feb. 23 at 6:30 pm.
Bogdan Mirică's impressively assured debut feature Dogs is a bleak, often perversely comic, crime drama set in rural Romania. The setting's barren, scrubby landscape is reminiscent of an American Western, as is the dark twang of its soundtrack; sure enough, the story involves bad guys who have settled on a lawless piece of land.
When city slicker Roman (Dragoș Bucur) comes from Bucharest to survey (and sell) land he inherited from his grandfather, the property's ornery caretaker and equally ornery dog are initially his main irritants. "Your grandfather led a busy life," hints weathered police chief Hogas (Gheorghe Visu), as he and Roman discuss recent local occurrences, including the disappearance of an acquaintance who was brokering the property's sale and the appearance of a severed foot in a pond.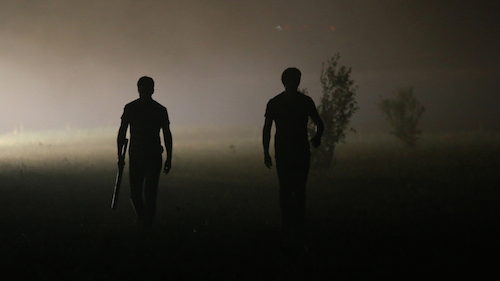 As Roman slowly uncovers the area's ongoing criminal activity and finally meets deceptively friendly ringleader Samir (Vlad Ivanov), he's repeatedly advised to go home, as he's clearly out of his league out in these parts. A surprise visit from his beautiful girlfriend pretty much insures that things will get much worse. A few critics have cited similarities to No Country for Old Men and like that film, Dogs features an aging lawman, a merciless killer, and a growing body count, in addition to a Coen Brothers-like deadpan sensibility. Though Dogs may not be quite as resolved as that film, it's an impressively moody piece of work, and Mirică is clearly a director to watch. Screens Thursday, Feb. 23 at 9:30 pm
Click here for the complete festival line-up and ticket information.
—Marina Zogbi