"Swedish Lo-life EP," A journey towards the Modern Life
MLiR stands for Modern Life is Rubbish, an utterly accurate and ironic name. Founded by the two absolutely crazy Swedes from outer Space, Marco Gegenheimer and Einar Christofferson. In 2016 the two lads broke through with the musical and mega hyped debut EP "Swedish Lo-Life" on Studio Barnhus, the re-known and eclectic record label run by Axel Boman, Kornél Kovács and Petter Nordkvist.
An EP of 5 songs, featuring the big hit people with almost 300 000 plays on Spotify so far. Up next in 2017 for Marco and Einar is their 2nd installment for Studio Barnhus, an EP under the name "Trans-World Junktion". They also have EP:s coming early 2018 for UK label Banoffee Pies, Berlin based Lossless, a 3rd EP for Studio Barnhus and non 4/4 stuff for Magic Teapot Records. Apart from all this, the boys are also preparing a live show for next year where everyone will be able to see them shaking their asses and showing the world they're here to stay to make you go bananas. Modern Life is Rubbish, and you know it!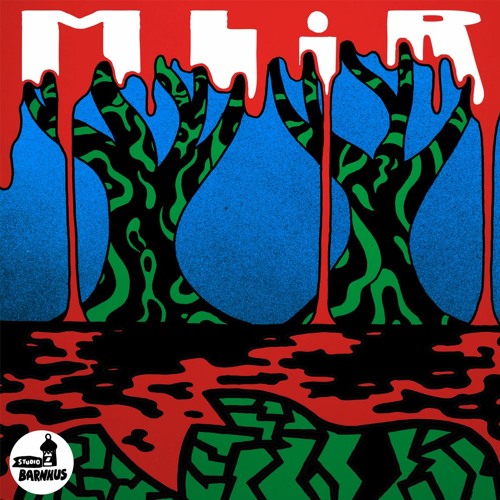 Marco, nice to meet you and welcome to Art for Progress. MLiR it is the new project you have created, but your career started a long time ago. Please, could you tell us when did you start to produce music?
My interest to produce music started after having a 5.5 years break from DJ'ing in 2009. I then started working on an album for Ratio?music / Rush Hour (which got lost) and released several EP's on Ratio?music / Rush Hour, Moodmusic and Perplex Recordings. I had a band called Factious Combo also when I was 16-19 years old which kinda sounded like a mix of Blur meets Sonic Youth.
How did you meet Einar, and why did you guys decide to call the project MLiR? What is the inspiration and story behind MLiR?
MLiR started with my buddy Einar Christoffersson back in 2012. We wanted to make something fresh and different, so we started doing experimental, cinematic and space traveling music before any dance music was done.
The name stands for "Modern Life is Rubbish" and was taken from Blur's second album with the same title. They had a great start in 1991 with "Leisure" and the tour in Europe went very well, but went to hell on their US tour, as they got totally shitfaced every gig (pulling out cables etc) and so the critics thought they'd be a one hit wonder band. So in an era where the music scene was dominated by music from the US (Nirvana, Sonic Youth, Pearl Jam), they decided to go against the stream and do something super British with "Modern Life is Rubbish." Their record label Parlophone / EMI thought they were crazy but the record became a commercial success, and the rest is history.
Our name is a political satire of the world and system we live in. It's also very ironic as we of course love technology, but think that it's important to have your own sound and go against classical rules within musical compositions. The name is also very on-point if we talk about how us humans live, glued to our phones, social media and forgetting the fact that all the answers to our problems is out there in mother nature.
As you know, every artist has another artist as a reference for inspiration. Would you like to mention some of the artists that inspire you to create that interesting and inspiring music? 
Please, describe which are your influences.
That's really hard to say but, to name a few artists and sounds that have influenced us here are some. Damon Albarn, Moodymann, DJ Koze, Sonic Youth, William Onyeabor and any psychedelic music with synthesizers, Tortoise, Jay Dilla, DJ Premier, The Radio Dept, cinematic music, music with stories and hidden messages. The list goes on and on.
How do you define your style?
Our style varies a lot so it's really hard to describe but always fresh music, great to dance and romance to, with a lot to say to you.
Which facilities and machines do you use at your studio to produce the tracks? How do you describe MLiR creative process?
We try to use both analog gear and live instruments fused with drum machines etc. We use MPC and Ableton and use hard to find vinyl samples mostly, SH-101, Yamaha DX-7, Ableton Push etc.
The creative process of a song varies a lot. Sometimes we start with a kick drum only, sometimes with a sample we've found, it really changes a lot. Live music is something that's really missing in electronic music, for example, and our aim will always be not make things sound too "loopy", but instead humorous and fun yet still serious and timeless.
As your career started a long time ago. AFP would love to hear a run through your music works since you started.
Well I mentioned some of my older stuff. In 2015, Axel Boman convinced us to start doing some dance EP's with MLiR, and so we did. Our first EP got released on Studio Barnhus in 2016. The second EP  should've been out in June, but due to a sample licensing it'll be out in the beginning of 2018.
In all your music career path, which is the best work you produced and you more feel proud of?
I would say MLiR's first EP, what we'll release next year and my EP for Ratio?music / Rush Hour called Inner Path Stories.
Are you working today in new projects you can tell us? 
We're currently working on a 3rd EP for them and new stuff for Lossless, Banoffee Pies and Magic Teapot Records. Magic Teapot Records is mine, Jens Ingelstedt and Dani Baughman's online record shop, selling rare and pretty unknown records from all over the world. I also have a project with my friend Tapia called Son Dos. We have released stuff on Berlin's Outcast Oddity, where I also have released another song called "G8," an acid techno banger.
Tell us please, a nice story that you remember related to your music career.
Can't really think of anything right now, but I'm really happy that people like Gilles Peterson, Laurent Garnier, DJ Koze, Andrew Weatherall and so many big names like the music that has been pushed out from me, MLiR and Son Dos.
Electronic music is a changing environment. What is your opinion about the evolution of the scene and to where this genre will progress?
I think these are really exciting times for electronic music, at the same time as it's extremely sad to see how media/clubs/promoters use a style like for example techno and house to just make money, brainless and soulless. I hope to see more live music in the scene and it's nice to see companies like Roland and others doing versions of some pretty expensive old analog synths and loads of new modular synths coming out everywhere as well. Absolutely love it!"
I have heard that you are planning to release a new label very soon. Please, would you mind to tell us something about it?
After having the perfect and free promotion / introduction to our followers, Magic Teapot Records have decided to start as a record label in 2018. We will release new music from friends, one or two vinyl reissues and compilations featuring discoveries we absolutely love and cherish, from rather unknown artists that we think need some recognition from the music scene itself and collectors all over the world.
Thank you very much your your attention, Marco. Congratulations to you and Einar Christofferson for MLiR. Your project is awesome! Let's enjoy the vibrant and funny music video of MLiR's "People" from their last EP "Swedish Lo-life EP" created by Einar.
You are welcome Nerea. Thanks also to Art for Progress for inviting me to talk about MLiR. Me and Einar are pleased to present our work here.
Please, remember to check MLiR's Soundcloud and stay tuned to Magic Teapot Records new releases.
Nerea T. Ruiz