Artist Interview: Big Sweater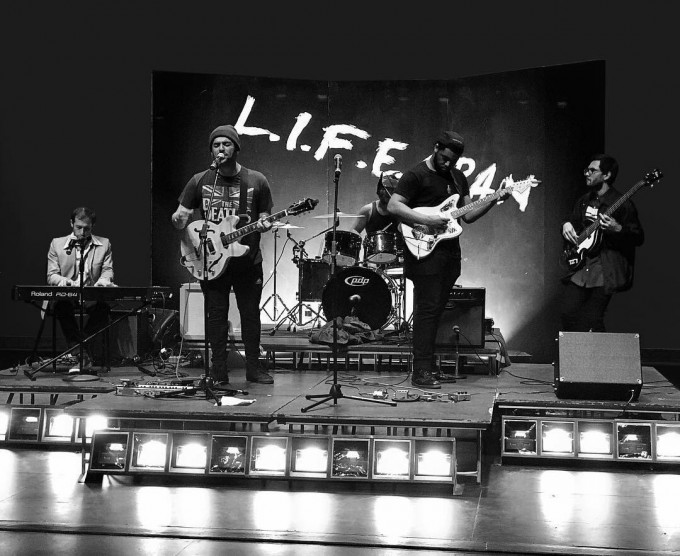 We recently caught up with the guys from the band Big Sweater to discuss their music, inspiration and their exciting new album they're currently recording.
In one way or another, members of the band have all been part of AFP's music education programs over the years. So, we're very proud and excited to see how they've progressed and evolved as artists.  Check out "Platform Stare," a single from the new album.
1) What inspired you guys to become musicians, writers?
Collectively what inspired us to be musicians is that of which was instilled in us by our parents and their taste for the most part. Being shown things that would be considered "old school". Those things later becoming memories and what is now sense of nostalgia of car rides and long trips throughout the years subconsciously planting a seedling in a driving force that is creating sound as well as putting words together that sum up how we feel.
2) How would you describe your sound?
Our sound is derivative of multiple things that boil down for the most part to blues. Our upcoming album has a combination of really somber and light tunes and also some really upbeat ones but overall our sound is very mellow.
3) Have you been playing the songs off the new album live, and if so how has the crowd responded to the new songs?
We've played most of the upcoming album in a rotation for about a year now, the crowd now sings along and its one of the most gratifying feelings in the world. What everyone is in for is an album that is unlike the live show. The album is a step back from an energetic performance, puts us under a microscope and gives you a rawer and intimate version of what people are familiar with as well giving you a sound that is unique sonically.
4) What do you enjoy most about performing live?
The feeling of being able to express yourself in front of a group of people who resonate with what you wrote in your own haven is beautiful, the fact that what you truly feel is relatable is good and you can make a definite and lifelong connection this way…..also having people sing your songs is pretty amazing. Playing music with your best friends is a treat and being in sync and vibing off one another is another solid piece of the pie.
5) Tell me about your creative process. Do you work remotely or do you work together as a group?
The songs on this upcoming album were written between Franklin & Elijah remotely. Most songs on it were ideas before the formation of Big Sweater, and they were given new life throughout this current lineup and everyone added their parts individually as introduced. This is something that we are straying away from as we are working towards being more collective with our ideas now that we have set aside a space for us to have writing and rehearsal sessions without any restriction.
6) Where do you find your inspirations as artists?
Being broad, we find our inspiration in pure feeling, we dwell on an emotion, it marinates, it becomes something.
7) What band's or musicians have been major influences?
The Beatles, The Red Hot Chili Peppers, & Radiohead are some of our favorites as well as Pink Floyd, Foo Fighters. Again a lot of radio from long trips or Sunday afternoons have had a ton of influence.
8) What does art for progress mean to you?
Art for Progress means so much to us because its given us not only a platform to create a record but develop skills with Barry Komitor who is also producing our album and is our musical father figure. Art for Progress has given us a chance to see the development of high school student's musical skills and maintain a relationship with them to where they come to our shows and we consider them friends. AFP has provided for us and for these students the necessary tools it takes to evoke a certain emotion through creativity, this is the focal point of our music as well, evoking an emotion that we could very well all share, for this we are grateful and hope to continue doing work. Art for Progress is exactly that, keeping creativity in the hearts and minds of not just the youth but everyone so that we can maybe use our words, our pictures, and sounds to push one another….to strive, to lift and to incite emotions in people.
with love, Big Sweater