A Woman Like Her: Alex Sichel's Final Film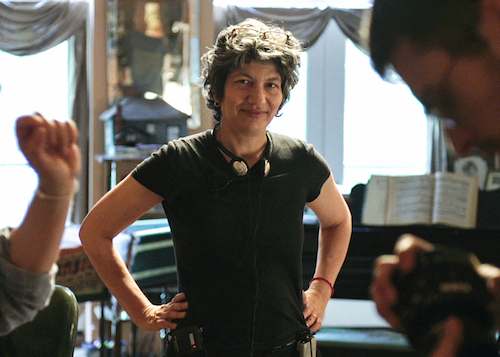 There are many different ways that people diagnosed with a terminal illness cope with the devastating situation. For filmmaker Alex Sichel, best known for 1997's All Over Me, the obvious response was to create a film about it. A Woman Like Me, directed by Sichel and Elizabeth Giamatti, is a hybrid documentary that includes scenes of Alex's illness and exploration of various treatments, along with a fictional narrative that parallels her own story. This latter film-within-a-film stars a luminous Lili Taylor as a New York-based filmmaker named Anna who is also dealing with breast cancer, but whose upbeat attitude and positive outcome contrasts with Alex's experience. A compelling composite,  A Woman Like Me is an honest, moving portrayal of a vibrant personality managing a terrible health crisis with creativity, humor and grit.
Early in the film Alex tells us that making a movie "is my way of understanding what's going on." While she sometimes wonders if the stress of filmmaking is the best way to use her time (her mother is strongly against it), it's clear that she has to do this. The goal for Alex, who identifies as Buddhist, is to face death without fear; making A Woman Like Me is part of her process to achieve that, while also holding on to some hope.
A Woman Like Me, unlike other "meta" films with complicated storylines, is fairly simple and chronological: We see Alex working on character development with the cast of her fictional movie in between visits to traditional doctors at Sloan Kettering and the alternative healers she favors. She includes several family members in the documentary, including her seven-year-old daughter Anastasia. While supportive, her parents and husband Erich have issues with her treatment choices. (Her mother especially is dismayed by Alex's "magical" thinking.) Alex winds up trying various approaches to save herself: chemo and other drugs, plus non-Western healing such as light harmonics. Onscreen she is a likeably sardonic character, often making wisecracks about her situation, though she also lets us see the strain of the illness's physical and emotional toll.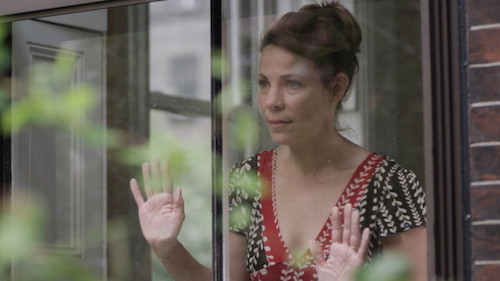 Gritty scenes of chemo injections, PET scans, and unflinching conversations with Alex's various physicians are interspersed with dreamy passages of the fictional Anna interacting with her own husband and daughter, talking serenely with her doctor, and generally taking it all with graceful acceptance. This enlightened character and her beautifully lit scenes seem to represent an idealized version of Alex, someone in whom she finds inspiration.
As the film progresses and Alex's condition worsens, she becomes increasingly preoccupied with how to involve Anastasia in her situation (as does the fictional Anna with her daughter). There's a tough scene in which Alex and Erich bicker about seemingly trivial film details at the dinner table, while Anastasia – a cheerful, inventive girl – tries to keep the darkness at bay. Alex visits an idyllic Buddhist temple and meditation center, and talks about using her illness as an opportunity to truly explore the practice's tenets. At one point, she and her entire family visit the small Greek village from which her mother's family originally emigrated. The movie ends with Alex back at the Buddhist temple, talking about letting go and facing death without fear. She died shortly after filming A Woman Like Me (Giamatti finished the movie alone). It's a lovely testament to her life and spirit.
A Woman Like Me opens tomorrow at Village East Cinema in Manhattan.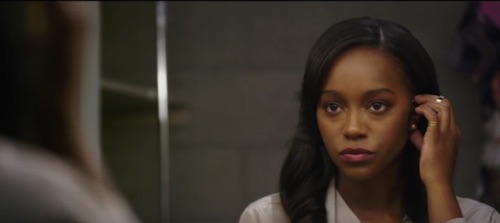 Jose Nestor Marquez's new film Reversion is a stark, no-frills thriller about a young woman named Sophie (Aja Naomi King), the marketing director for a controversial new tech product as well as the daughter of its inventor, Jack Clé (Colm Feore). Called oubli (nice French references), the ear-mounted metal clip enables users to relive their fondest memories via a device that resembles an iPhone. Days before its launch, Sophie – who repeatedly uses the device to relive moments with her deceased mother — is kidnapped by another young woman (Jeanette Samano) in desperate need of the device's code.
Thus Sophie learns that there is much more to oubli than she knew, and that her overly protective neuroscientist father has been hiding major secrets about its development. The film has stark, appealingly sleek visuals, but Marquez's low-key direction may be a little too antiseptic for its own good, as we struggle to relate to his underdeveloped characters. Though clunky at times, Reversion does have an intriguing concept and just enough momentum to maintain one's interest in its outcome (as well as a fascinating turn from the always game Amanda Plummer as Jack's somewhat unhinged former associate). It's yet another reminder that cool new technology invariably has a downside, if not quite as dark as this one.
Reversion opens tomorrow at AMC Empire 25 in Manhattan.
—Marina Zogbi