The Amina Profile: A Gay Girl in Damascus?
There are two different ways to write about The Amina Profile, Sophie Deraspe's startling new documentary about Syrian activist Amina Abdallah Arraf, author of the blog A Gay Girl in Damascus. One way is to tell the story that has already been covered in the press but is not necessarily that widely known in this country. The other is to review the movie up to a point, leaving a big chunk of it vague for anyone who may not be familiar with the narrative (and doesn't conduct a Google search before finishing this paragraph). Maybe there's a sort of middle ground?
The doc begins with texting between two young women who have connected on a social media site: Amina, a Syrian American living in Damascus; and Sandra, a French Canadian living in Montreal. It soon becomes flirtatious and sexual, mainly on the part of Amina, who seems starved for this kind of forbidden contact. The film shows Sandra recalling the genesis of this digital relationship and how she becomes intrigued by details of Amina's life as an activist circa 2011, at the dawn of the Arab Spring. She gets caught up in Amina's daring new blog A Gay Girl in Damascus and the latter's reports of police harassment due to her outspoken views. At one point the mainstream press picks up on the post "My Father, My Hero," in which Amina describes how her dad defended her against the police. She becomes a heroic figure in the blogging community, a sympathetic symbol of the Syrian revolt.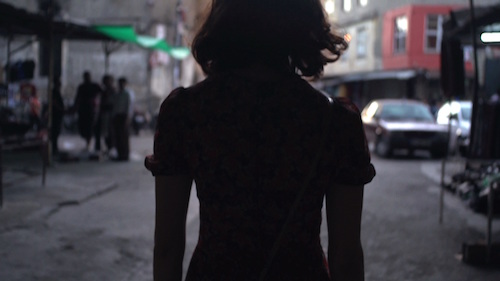 Punctuating this narrative are gauzy, soft-focus scenes of a young woman wandering the streets of Damascus and at home on her laptop, as well as grainy clips of escalating violence resulting from the protests in Syria.  As Amina describes witnessing specific events related to the uprising, Sandra sees them reported in the news. Their relationship continues via text – Skype is blocked in Syria, according to Amina – and Sandra becomes increasingly worried about her paramour, especially when Amina goes quiet for several days. We're also shown interviews conducted around the world with journalists, bloggers and activists who all discuss the impact of Amina's blog during the uprising, and, in the case of Syrian protestors, their own experiences during that time. Meanwhile Sandra and Amina's exchanges grow more dramatic and sporadic when Amina reports that she and her father have gone into hiding.
Then Sandra receives a message from Amina's cousin informing her that Amina has been kidnapped, ostensibly by Syrian authorities. Concerned for her safety, the blogging/social media community starts a "Free Amina Abdallah" campaign and reach out to the American Embassy. The State Department responds that it cannot find records of Amina or her family. Soon bloggers are asking each other if anyone has actually met her in person, though they are extremely reluctant to question the identity of someone who may be in peril. Sandra, who has been in an intense online relationship with Amina for six months at this point, is deeply shaken, especially after a Croatian Londoner surfaces on the BBC claiming that the photos of Amina on social media and in the press are actually of herself. So … who is Amina really?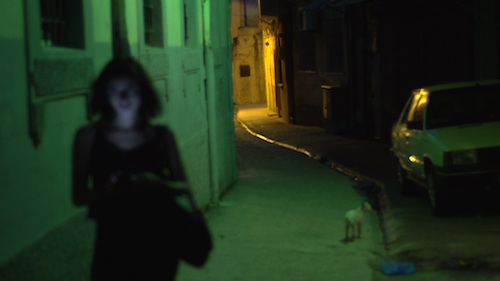 Deraspe does a good job building tension up to this point, and we begin to understand all the dreamy footage depicting a hazy-faced young woman roaming around Damascus. The film, which has been very thorough in including commentary from various figures involved with Amina, the media and the Syrian uprising, now turns into an investigation. Deraspe ramps up the intrigue with escalating discoveries until the mystery of Amina is revealed, and it is pretty mind-boggling. We also see the bigger picture: how this entire episode affected not only the individuals personally involved, but media coverage of the Syrian revolt in general. It is yet another cautionary tale about social media and our reliance on digital communication.
The Amina Profile is a skillful and unusual portrayal of a story that could have been a much more cut-and-dried affair in the hands of a different director; those favoring a more straightforward approach might not have patience for the film's romantic moodiness. Ultimately, however, its tone can be seen as a reflection of romanticized attitudes toward the Middle East and how they might fuel a situation like Amina's.
The Amina Profile is playing at IFC Center.
—Marina Zogbi