Blame It On The Goose: Danny Brown @ House of Vans (pt 2)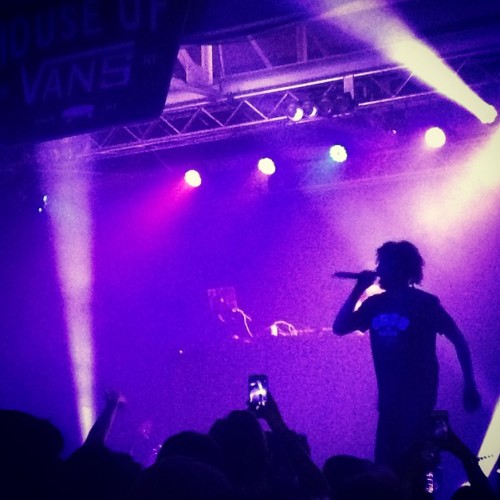 Everyone gathered on Tuesday night to see not only the documentary Danny Brown: Live at the Majestic, but also to see the famed rapper Danny Brown himself. Best known for his 2011 album XXX, the Detroit native has been quiet in recent years. Apart from voicing the Fresh Off The Boat theme song and writing a Seussian children's book, Brown hasn't released any new work or played many shows of late. This fact made his appearance at House of Vans all the more exciting. Those who had sustained themselves with the recorded versions of "Grown Up," "Dip," "Smokin & Drinkin," and "25 Bucks" and longed to hear them live would finally get the chance.

That crowd, the one that had been patiently waiting for years now anxiously passed the last hour of that interval outside the venue. Some groaned about having come straight from work while others repeatedly called the missing members of their parties, telling them to "hurry up." Amongst them was a mix of safety pins, asymmetrical haircuts, Supreme brand clothing and the odd fannypack. They were a young, hip, image-conscious crowd, but despite all that originality and individuality, there was one thing that brought them together and that was Danny Brown. He was why they dragged out to Greenpoint, why they rallied their friends, why they skipped dinner just to get a good spot in line. "I had a multigrain kombucha in my fridge… I should've grabbed that," one girl bemoaned. She then gestured to the thick crowd of early comers. "Real friends" she called them. They weren't here for the free beer (although they were probably very thankful that Goose Island helped pulled the night together.) They weren't here for the cool points and popular hashtags. They were here for Danny Brown. When the venue doors were opened, they gazed at the tall ceilings, took up residence on the skate ramps, and milled about the courtyard, chowing down in foodtruck tacos, but ultimately remained fairly unfazed by their surroundings. It was as if they had horse blinders on. No pomp nor circumstance could shake their resolve. They were going to see Danny Brown. They just had to wait just a little longer.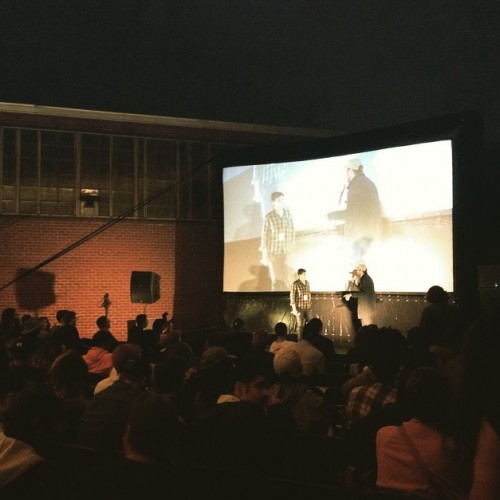 If you had seen them hours earlier, riding the G train or cramming into a car somewhere in Jersey, they might have appeared to an outsider like an apathetic bunch. One boy, with "fuck reality" stitched into the back of his jacket and a carabiner through one ear, seemed particularly so. But ask anyone of them what they were doing that night or what they liked about Danny Brown or his music and odds are you'd hear near poetry. This passion and commitment amongst Brown's audience is one thing that Andrew Cohn tapped into for the documentary. Part live show, part profile, Live at the Majestic showed the behind the scenes of both parties- audience and performer. First, it visited Brown in his hometown. Viewers got an look at his daily routines, from smoking to writing to avidly watching Arsenal games. The focus would then pan to a fan. First it was Shane, a thin, thoughtful looking young man from a small town in the Midwest. The camera followed Shane through the snow as he spouted a meandering monologue on the dismal future of such a place. In one pointedly crestfallen moment, he admitted, "I don't have the option to get out of here." The escape he found was music, specifically Danny Brown. Shane danced wildly in the audience at the Majestic. Cohn commented on how much he wanted to include Shane and the other audience member's voices. He wanted to know their stories and how they ended up intersecting on that night. The film then swung to another concertgoer, Alana, who had a similar story. She had covered Brown's "I Will" on the ukelele and posted her rendition on YouTube. Like Shane, she had found solace in Danny Brown's music. In doing so, she joined the online community of his fans. Brown, being an ardent Twitter user, met many of his listeners, like Alana, via the internet. He shared with them not only his work, but also his inner workings. He talked openly about his own struggles, including depression and drug use.
In the documentary, Alana opens up about her mother's alcoholism and how she uses art to counteract the negativities in her life. Brown discusses taking a similar stance in his work. His own conditions, his failings, his successes, everything is laid bare in this work. He uses it to power his art. "25 Bucks," one of the songs the audience is jonesing to hear, is a painstakingly detailed look at a reality Brown saw, one that is sometimes ignored in all the glamour of the genre. In one verse, Brown raps, "What we gon' do see the local dope man / See if we can put some money in our hand / Same one jump me, the same one front me / Cause I'm tired of seeing my family fucked up and hungry." He also muses, in Live at the Majestic, on the correlation between drugs and art. Crouching backstage at the Majestic, he wonders, "How do you do it?" referring to artists who create without the help of various substances. Over the course of the documentary, the cameras catch Brown under all sorts of influences. At one point he's cautioned to "take it easy." Later in discussing aging in the spotlight and not being twenty-something anymore, Brown admits, "I wanna make it to fifty. I want to be old." Several scenes later, the story returns to Shane who reflects on his life before entering rehab. It's a sobering finish that leaves some audience members questioning the creation of songs like "Dip."
As the credits roll, the crowd springs back to life and cheers as the Q&A commences. Cohn talks briefly before inviting Danny Brown, the man of the hour, on to the stage. After another round of cheers, audience members take turns not so much asking questions as roundabout-ly thanking Brown for his music. They show off tattoos relating to his various releases, share stories, and of course take selfies. Brown goes along with it, meeting their energy and breaking only from his mic for a moment- ironically to take a swig of Patron from a bottle stashed stage left. As the light continued to fade, the event moves indoors where the hour everyone was waiting for unfolds. The concert begins and fans rushed the barricades to sing along to the opening lines of "Smokin & Drinkin."
by Zoe Marquedant