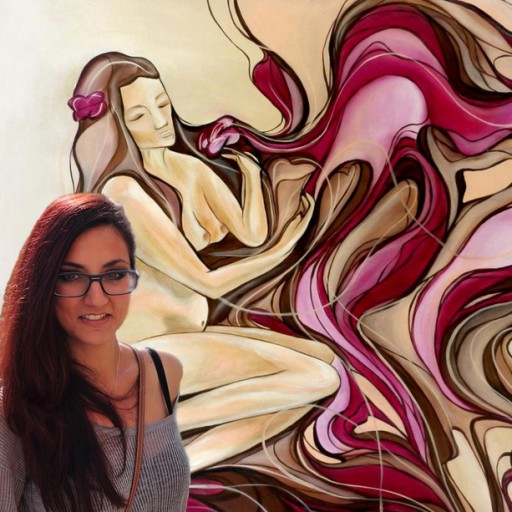 Leni Kae
Australian contemporary artist Leni Kae integrates the semiotics of colour psychology, shape, composition to produce artworks with powerful subconscious triggers - "Energy Art".
Painter
Blog
New Art Series: Love Stories
The new year always brings with it feelings of renewal – setting sights on new goals and dreams for the year to come. It also brings with it reflection as we decide on those things about our life that have run their course and must come to an end.
For me, I spent the end of last year contemplating love and opportunity – two things that always make me smile. These thoughts for me herald the start of a new collection that I am excited to introduce, titled "Love Stories".
'Love Binds' is my transition piece to the new collection, and you can see a slightly more illustrated style coming through with the introduction of ink.
:LOVE STORIES: LOVE BINDS" BY LENI KAE (C) ACRYLIC AND INK ON CANVAS. 75 X 90CM. PRICE RANGE: AUD$1000-$1999
My use and introduction of acrylic and ink is very much linked to my thoughts on love and opportunity. Time is so precious, and love and opportunity can sometimes feel like a beautiful and rare occurrence Living in the moment and really feeling that moment can be all too important. The mediums I've used reflect these feelings for me; acrylic and ink have meant quicker drying speeds for my art and allow me to take in and truly express these feelings and inspirations for this series.
The flowing lines, patterns and pointillism gradients I've used in the artwork are also reflective of energetic movement within and between the figures in this artwork.
Two of the most beautiful moments of love and opportunity for me are: the moment you are captivated, and the moment you are deep into that love or opportunity. So I feel that it is important to explain I feel also that this artwork has been designed to reflect these thoughts. By composition it can be displayed as both portrait (representing the 'falling' state of love) and landscape (representing the 'fallen' state of love); adding a sense of symbolic beauty to its versatile design. The 'love' that I speak and paint about is also not limited to a person, it is openly reflective of all love and passion.
I look forward to sharing more of my new collection.
Leni –  Contact: lenikae@gmail.com
More Posts -