We Learn Dances: Rinsed reps for Brooklyn
Were you at this past weekend's Brooklyn Electronic Music Festival? If not, you missed borough-load of great parties, soundtracked by scores of brilliant artists and DJs. One of the best was the Rinsed closing party, held in a Bushwick warehouse space and featuring guest sets from the inimitable Detroit producer Omar-S, the always-worth-catching Chrissy and the Basement Floor label's Turtle Bugg. In case you're not familiar with Rinsed, the soiree has featured iconic artists and DJs along the lines of Inner City, MK, MJ Cole, Juan Atkins and Todd Edwards; stars of slightly more recent vintage like Jackmaster, Jacques Greene, Ejeca, Ben Pearce and Chris Malinchak; local players like Juan MacLean, Justin Strauss, Morgan Geist, Populette and Aurora Halal; and a list of outliers that includes Actress, NGUZUNGUZU, Ital, Sepalcure and Jaw Jam. Oh, and a bunch of other people, too—not bad for a shindig that, when it debuted four years ago, hosted about a hundred people in the loft space above Public Assembly. Nowadays, resident spinners Dan Wender and Blacky II, along with Rinsed's indispensable "visual aesthetician" A.Pop, are among those running the show in Kings County. We asked the core gang, Brooklynites all, what they loved about their home borough, and here are their wide-ranging replies.
 A.Pop
Some things I love about BK:
That you can find cappuccino Lays chips in Bushwick, the best slice of your life in Midwood, 24-hour amazing tacos in Sunset Park, or blue ribbon/grass fed/farm-to-fork in Park Slope. Making fun of the people that refer to and debate about "farm-to-fork" in earnest.
Snow-covered Coney Island.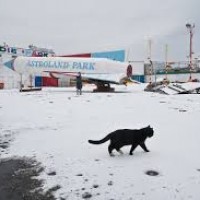 Any summer/spring/fall day in Fort Greene park.
The ability to be a totally "normal" human wandering around the new Times Square of Brooklyn (North 6th Street), and then chill in some weird storage unit turned temporary performance space/art gallery.
Hearing a beautiful opera or concert at BAM, and then blasting house and techno on one of the world's best sound systems at Output.
Not spending my entire rent money at Output and catching Bossa Nova Social Club's  happy hour instead.
Not waking up the day after a night a Bossa.
That things like Trip House, Danger Boat, and Market Hotel were able to exist.
That one of my first memories of going out in Brooklyn was having to evacuate Studio B mid-Digitalism set because a fire broke out.
That things like the Waterfront Barge Museum exist.
That my friends range from architects, DJs, artists, producers, anthropologists, scientists, etc.
"Wing night" with said friends.
That we all at least secretively love those maps of BK neighborhood stereotypes, make fun of the other stereotypes that aren't you, but know that in the end we are all the best and wouldn't trade it for the world.
Blacky II
Proximity: Just about any musically related thing I ever want to do is less than a 10-minute bike ride from my apartment. If I want to pick up a new piece of gear or go to the club or buy a record or go to the studio, it's all right here.
Variety: So many interesting musicians and artists to collaborate with and draw inspiration from. There's so much diversity it never feels stale or monotonous. Even physically, you can do the polished-club things or the grimy-warehouse thing and everywhere in between,
Freedom: We're lucky enough to live in an extremely accepting and nourishing community that embraces and supports difference. It's really nice to see people expressing themselves without feeling they need to guard or filter their ideas. Shit has definitely been getting weird again, in the best way possible.
History: Brooklyn has such a musically rich history spanning all kinds of genres, but was especially integral in the early days of modern club music. Just take Kenny Dope for instance, The Bucketheads' "The Bomb"!? Come on.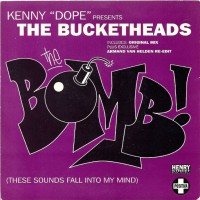 Community: I kind of touched on this in the freedom bit, but people are overall really supportive of what we've been doing the last few years, and it wouldn't be possible without them. I don't think most people realize how important and encouraging their support truly is.
Quality: we've got access to all the best stuff here, and an incredible hometown roster.
Anonymity: While there is a tightly knit community, Brooklyn is so big it's relatively easy to disappear in the crowd (literally and figuratively) should you feel like it. People need to do that sometimes.
Spontaneity: There's such an abundance of amazing people and events, you often find yourself hanging out at unexpected places with unexpected people experiencing new things you hadn't planned on.
Motivation: There are a lot of talented people to compete with in Brooklyn, you really need to constantly be developing and sharpening your skills to set yourself apart.
Distraction: If you're ever music-ed out, there are a million non-musical ways to unwind.
Dan Wender
While I'll always have love for Manhattan, Brooklyn has become a drug and when I leave for too long I get withdrawals. I moved here from the city four years ago, and I've never looked back. There's desperation, a hunger, everyone needs to get their project off the ground or they're going to die. That's really helped inspire me to work and sleep as little as possible. The stability of the Manhattan work-leisure model doesn't harbor the creative pressure you feel in Brooklyn. It's nice to go outside and see people wheatpasting Richard Simmons brain posters on the street and know they're inspired and taking shit into their own hands.
Some of my favorite things:
Bay Ridge Halal Truck, 86th St and 5th Ave
Blacky and our buddy Nick showed me this place. It's like 53rd and 6th but Nick claims it's "more real". He's kind of right. If you happened to have a friend with a car and it's five in the morning and you need all-out nourishment, this is the spot for those in the know. Expect a line.
Here Comes the Sunz, rotates between Ft Greene Park, St Nicholas Park and Culyer Gore Park
I almost fear giving this one away but it's probably the most incredible house-music experience that exists in Brooklyn, please use in moderation. A few Saturdays a summer (you can find out date and location by checking out their Facebook Page) Brooklyn Sunz take over select parks for an afternoon of soulful house music. They bring in an incredible sound system and there is absolutely no pretentiousness (or booze, so flask it). Best way to experience house music in it's original form.
Savino's Quality Pasta, Conselyea St and Manhattan Ave
Old school pasta store. You go in and tell them what kind of pasta you want and they cut it right there for you. A pound costs about three bucks, which is cheap enough to never buy Barilla again.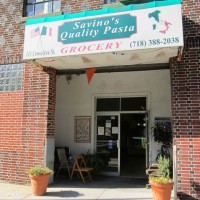 Sal's Barbershop: 305 Graham Ave (note: this isn't actually called "Sal's Barbershop."
If you want a barber with a waistcoat and an ironic waxed handlebar mustache this is the wrong place for you. Sal isn't a revolutionary, he's a Sicilian immigrant who's been cutting hair for 30 years. He's also a wedding DJ and singer on the weekends. He'll sing to you while he's shampooing your hair, which is more than your girlfriend will do. A cut costs fifteen bucks.
Shit Factory Nature Walk, Paidge Ave & Provost St
I had ridden my bike past this for years and always thought it was a strange idea. Recently Blacky took me there IRL and I gotta say, it's the most bizarre place in Brooklyn. For whatever reason, in order to build the Newtown Creek Wastewater Facility, they had to install a Nature Walk for the community. There are all sorts of exotic flora like "wild ginger" complete with placards with their Latin names. It's truly unique, and surprisingly unshitty.